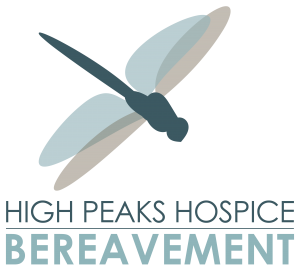 Bereavement Program
There is no manual to guide you through loss. No one-size-fits-all process that will help you in your time of need. Our Bereavement Program offers support to patient's families before and after the loved one's death.
When a loved one dies, the world changes. Time continues marching on, responsibilities do not magically melt away. Our communities offer understanding and support in the immediate days following a loss but may not continue for as long as you need. After the first few days, people may visit less, employers may be less understanding, and you may start wondering if you are simply taking too much time to grieve.
The Bereavement staff and volunteers at High Peaks Hospice believe that grief is a natural outcome from a loss, and grief is felt and expressed differently in every person. We carry space in our hearts for the stories and worries of individuals in the midst of grief with no judgment and we offer compassionate support for 13 months from the time a person accepts bereavement support, regardless of when the loss occurred. For families, caregivers and friends who have a loved one on hospice, support starts while your loved one is in care. Bereavement support is provided by phone, mail, and email contact. We offer telehealth and in-person bereavement counseling, resources, workshops, and support groups.
Bereavement Support is offered at no cost to members of the community as well as to family, friends, and caregivers of hospice patients.
Grief Support:
Grief support through our Bereavement Program may consist of:
Home Visits/Individual Bereavement Support

In some cases, our Bereavement Coordinators can offer up to six individual support sessions depending on coordinator availability.

Telephone Contact

Telephone contact is offered as needed or requested. The Bereavement Coordinators and Bereavement Volunteers call at 3-, 6-, 9, and 12-months to check-in and provide grief support.

Newsletters

High Peaks Hospice offers "Grief Information Series" newsletters at 1-, 4-, 8- and 12-months to help provide grief education and understanding.

Trained Bereavement Volunteers

Our bereavement volunteers offer support through in-home visits and telephone calls.

Grief Support Groups

We offer both in-person and virtual grief support groups throughout our service area. Please visit our events calendar for a complete list of upcoming support sessions.
We are here to help – Contact us
Hospice accepts referrals for bereavement regardless of whether or not their loved ones received hospice services.
Please contact our Bereavement Team today!
Email: bereavement@highpeakshospice.org
Phone: 518.891.0606
Grief Support
RX for Recovery
Eat Balanced meals. Check with your physician regarding vitamins.
Limit intake of alcohol, caffeine, drugs and sugar. (if sensitive)
Exercise 5 days a week. A brisk 30 minute walk will do.
If suffering from insomnia, don't eat protein after 5pm. It blocks tryptophan. Eat carbohydrates at night. Also alcohol, caffeine and sugar causes insomnia in some people.
Take 10 minutes a day to do something nice for yourself.
Some find daily meditation or prayer at a fixed time (on rising or at bedtime helpful.)
Each night make a list of tasks for the next day. In the morning, review them, eliminating or adding. Prioritize them.
Allow yourself permission to grieve—to cry and to be angry.
Choose your companions carefully; those who will support your grief process and help with necessary tasks.
Avoid making hasty major decisions (changes of residence, employment, disposition of personal effects) too soon.
Griever's Bill of Rights
You have the right to experience your own unique grief
You have the right to talk about your grief
You have the right to feel a multitude of emotions
You have the right to be tolerant of your physical and emotional limits
You have the right to experience "griefbursts"
You have the right to make use of ritual
You have the right to embrace your spirituality
You have the right to search for meaning
You have the right to treasure your memories
You have the right to move forward your grief and heal
Web Resources