Spiritual Care Services
The role of a Spiritual Care Coordinator is to learn about what brings you a sense of connection and peace and highlight these aspects as part of your care. The coordinator will seek to support both the patient and family. One does not have to be "religious" to receive benefits from a Spiritual Care Coordinator. Distant or nonexistent spiritual and religious connections can also be reignited and strengthened with the support of a coordinator.
In addition, if a patient or family has a strong connection with a community religious organization the Spiritual Care Coordinator can assist with coordinating with them to come to the patient's home. Patients and family's can participate in more traditional prayers and songs or more modern practices. The goal of the coordinator is to help hospice patients and families feel comfort in this uncertain time.
When you change the way you look at things, the things you look at change.

-Wayne Dyer
Sometimes we need to take a step back and see the broader and deeper picture that is underlying all our experiences.

The dying time does not need to be a time of suffering, and the Spiritual Care Coordinator's role is to support you in reducing that suffering and enhancing the sense of peace and beauty within and around you.
Spiritual Care Coordinator Visit
A Spiritual Care Coordinator will visit a patient within the first 5 days the patient comes onto hospice services. The coordinator will get a sense of the patients and family's spiritual, religious and cultural beliefs. The Spiritual Care Coordinator will determine if the patient or family have any current connections to any religious organizations in the community.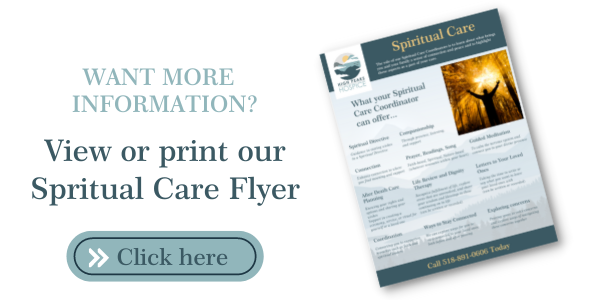 Spiritual Care Resources That You May Find Helpful
Podcasts
A Path Home- Demystifying caring for your own loved ones after they die
Here After with Megan Devine
In this podcast and in Megan's book (It's okay, that you're not okay) she takes a real and raw approach in acknowledging and supporting in these spaces of grief.
On Being and Sounds True-Insights at the Edge

Both of these podcasts provide amazing insights and hope

There are podcasts on any topic these days- if you have something you are wanting to learn more about or broaden your perspective you can search and see what comes up

For example: There are podcasts that talk about dementia and ones that focus on broadening our understanding and bringing more positives into what can feel full of loss
Books
It's Okay That You're Not Okay – by Megan Devine.

Also check out Megan's other works: The Wild Edge of Sorrow-Rituals of Renewal and the Sacred work of Grief by Francis Weller

Poets John O'Donohue and Phyllis Cole Dai

Extraordinary in their use of language to sooth the most broken of hearts

Final Gifts – by Maggie Callanan

Written accounts from hospice nurses who leaned into the profound messages and lessons from those at end of life.
Websites
"You matter because you are. You matter to the last moment of your life.  And we will do all we can to not only help you die peacefully,  but also to help you live until you die".