We invite you to join us and our partners for a weekend of community healing events in Saranac Lake October 2-3
Living with Dying Art Exhibition @ BluSeed Studios 
Saturday, October 2, 5:00-8:00pm
Opening reception takes place for the art exhibition with readings and live music from 5:00 – 8:00 pm at BluSeed Studios, 24 Cedar Street, Saranac, NY
Introductory remarks by Cathy Brooksie Edwards, and a brief gallery talk by Diane Fine, curator of the art exhibition Living with Dying, will begin at 6:00 PM. Four contributors to the Heartspace anthology, including Diane Fine, Amiel Landor, Amy Parker and Jennifer Scanlon, will read excerpts from their chapters in the book Heartspace: Real Life Stories on Death and Dying.
Refreshments will be served and live music will be offered by Jeffrey Wanzer Dupra.
Tending to the Heart – Living with Grief @ Mount Pisgah Lodge
Sunday morning, October 3rd, 10:30am-noon
heart2heart and Hospice High Peaks will offer a community healing event Tending to the Heart – Living with Grief – at Mount Pisgah Lodge in Saranac Lake.
Participants will have the opportunity to explore their own journey around the impact of loss and grief in the support of community with introductory lecture, gentle guidance, light movement and live sacred music.
The journey will be led by Brooksie Edwards, founder of heart2heart and supported by the Hospice High Peaks counseling team.
The soundscape will be provided by Adirondacks own Peggy Lynn and Dan Duggan.
This is a free event and donations are welcomed.
Weather permitting, this will be an outdoor event. Please dress warmly and bring blankets and chairs. In the event of inclement weather, the event will be moved indoors to the lodge.

Death and Cupcakes Cafe @ Bluseed Studios 24 Cedar Street, Saranac Lake, NY 
Sunday evening, October 3rd, 4:00-5:30pm
heart2heart and The Adirondack Death Care Community will host a Death and Cupcakes community event at Bluseed Studios.
This event is designed after the global movement of Death Cafes. It is an opportunity to have open and honest dialog around navigating the living path of death, dying and beyond.
A presentation by Dr. George Cook on End of Life Challenges will open the conversation. Followed by an open discussion and opportunity to share hosted by Colleen Corrigan, Founder of The Adirondack Death Care Community and heart2heart's Brooksie Edwards.
This is a free event and donations are welcomed. Of course, Cupcakes will be served!!
***
Heart2heart, a North Carolina-based non-profit, provides services for individuals, families and communities who are navigating the living path of death, dying and beyond. Cathy Brooks Edwards is the founder and executive director of heart2heart (www.heart2heartnc.com). Cathy, known as Brooksie, is an alumna of Paul Smith's College and Plattsburgh State University. After graduating with a Masters in Counseling from SUNY Plattsburgh, Brooksie moved to North
Carolina to further pursue her education in bodywork. After years of developing her own style of mind/body healing, she used her deep knowledge and experience to support a friend diagnosed with ALS and his family through a heart-breaking year of his dying time. After his death Brooksie completed her International Death Doula Training with Doorway into Light, a program based on Maui in Hawaii.
These experiences, and more, informed Brooksie's understanding that d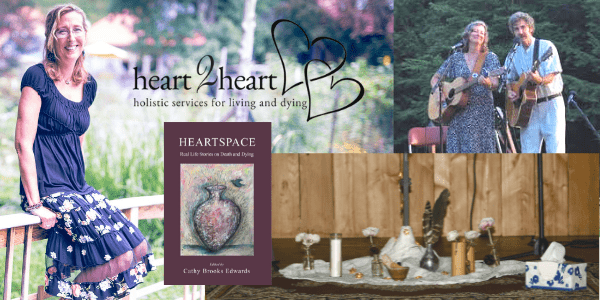 eep listening, gentle guidance, hands on and live music healing can offer comfort and ease for individuals, their families and their community during the dying time and beyond. She felt strongly that these services should be available to everyone regardless of their ability to pay. That's why making these services accessible to those in need is part of heart2heart's mission. Heart2heart is generously supported by contributions from private foundations and community members. Donations are tax-deductible through their umbrella organization Abundance NC (www.abundancenc.org), a 501(c)(3) charitable non-profit.
In 2019, heart2heart was honored and delighted to publish its first anthology Heartspace: Real Life Stories on Death and Dying. Through the heartfelt words of nineteen storytellers, Heartspace challenges us to shift the paradigm of death and dying in our culture while offering its readers a chance to open their own hearts to healing and growth. Brooksie's roots in the Adirondacks and the fact that four of those nineteen powerful storytellers have similar connections to the region, fueled the idea of creating a shared community event in Saranac Lake.
***
Diane Fine, the curator of the art exhibition Living with Dying is a Distinguished Teaching Professor at Plattsburgh State University of New York, where she teaches printmaking and book arts. Diane is also one of the contributing storytellers. The exhibition will be located in the gallery at Bluseed Studios for the month of October.
***
BluSeed Studios is a nonprofit artist workspace dedicated to the creation, promotion and presentation of the arts in the North Country. We offer ceramics, printmaking, drawing, and frame studios, adult and children's workshops, and performance/exhibition space.