National Healthcare Decisions Day, observed annually on April 16th, is aimed at increasing the number of Americans who have completed an advance directive. A living will is an advance directive that speaks to what care you want or do not want (i.e. no feeding tube, but open to antibiotics) and your Health Care Proxy names the person who will follow those wishes and make decisions.  Experts say only about 20-30% of Americans have completed an advance directive even though all people age 18 and older should have one.
When we make health decisions ahead of time and put those wishes in writing, we bring peace of mind to our families. We enable our caregivers to advocate for us when we are unable to do so for ourselves. We are more likely to avoid the difficult situations that are so common when we become seriously ill and our loved ones are left to guess what we would have wanted.
Today, on Nat'l Healthcare decision Day, High Peaks Hospice is sharing Five Wishes, a 12-page booklet to help guide individuals in discussing personal, family, and spiritual matters in addition to medical and legal concerns. Five Wishes is a valuable tool for beginning often difficult family discussions. When completed, it meets the legal requirements of most states, including New York.
"Five Wishes deals with the things people say matter most to them," Five Wishes President Joanne Eason said. "It allows them to clearly state what kind of treatment they want, or don't want, so their families aren't left to guess or second-guess."
Our staff here at High Peaks Hospice agree with the statement above. From our personal experience dealing with families, we understand firsthand what a gift it can be for family members to know and understand their loved one's wishes. The knowledge that they are honoring their loved one's wishes goes a long way in easing anxiety and conflicts between family members when a loved one, often a parent, is found to no longer be able to communicate on their own. At this point, having their wishes discussed beforehand and expressed in writing is very beneficial to the entire family.
Research has shown that most people with a serious life-limiting illness want to be:
At home
With loved ones
Free from pain and suffering
In control of their care
The reality is many people in the last year of life experience unwanted and often unnecessary hospitalizations. The majority of people, even those who are seriously ill, haven't talked about or documented their wishes. Many people are only referred to hospice services in the final hours or days of life, if ever.
Why does this happen?
End of life is treated as a medical moment instead of a human experience.
People avoid talking about end of life.
Even if they do talk about it, very few people write down their wishes.
High peaks hospice recommends Five Wishes because it is:
Easy to use, written in everyday language
Promotes peace of mind for your family
Lets people know what you want
It also lets you express personal, emotional, and spiritual needs along with your medical wishes, helps you discuss your wishes with your family, and clearly tells your doctor that there may come a time when comfort care is what you want.
Wish 1 – The person you want to make health care decisions for you when you can't 
This person is known as your health care agent
Allows for up to 2 alternates if your agent is unable or unwilling
Wish 2 – The kind of medical treatment you want or don't want 
Instructions for pain control and life support
Allows for different wishes in different situations
Examples of life support are provided
Space for you to write instructions based on your personal beliefs
Wish 3 – How comfortable you want to be
Expresses your choices for types of comfort care
Allows you to cross out or keep items based on your choices
Wish 4 – How you want people to treat you
Things your caregivers and family should know about how to support you, including if you wish to die at home
Types of things people can do for you, including prayers, visits, placing pictures of family in your room, and holding your hand
Wish 5 – What you want your loved ones to know
Share your thoughts with family
Offer love and forgiveness to those who have hurt you
Ask forgiveness for times you have hurt others
Communicate practical matters such as preferences for memorial or burial, or arrangements for donating your body to science
Once you have completed and documented your wishes in your copy of the booklet, don't just file it away.
After it's signed and witnessed…
Photo-copy and give to your health care agent, doctor, family, and friends – and keep the original accessible! (not in a bank box or safe)
Discuss your wishes with them too!
Carry your wallet card.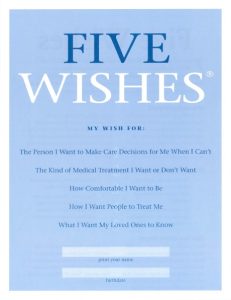 A printable copy of Five Wishes is available here for you to download, view and print.  
Physical copies are available upon request. Please contact Sara DeSimone at High Peaks Hospice with any questions by calling 518-891-0606 or at sdesimone@highpeakshospice.org
High Peaks Hospice provides end of life care that listens with respect, cares with compassion, supports with choice, and comforts with understanding – wherever you call home.