The Tupper Lake community is building everlasting relationships with High Peaks Hospice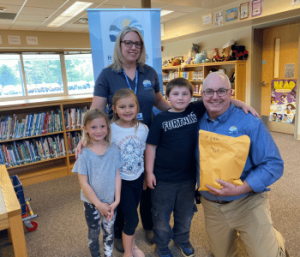 Pictured: Back – Sara Desimone, High Peaks Hospice Administrative Manager. Front – Students
representing LP Quinn Elementary's 1st Grade Classes who raised $1,364, Nick George, High
Peaks Hospice Executive Director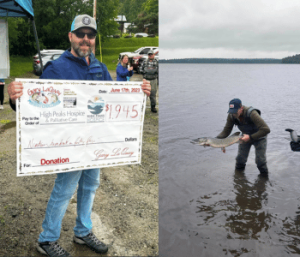 Pictured: Cory LaQuay presents a check for $1,945. Ricky J. Dewyea shows his 11 lbs. 6 oz.
Northern Pike which is the largest caught in the 10 years of the derby!
Tupper Lake is full of people that are quick to lend a helping hand.
For 2 weeks in the month of May the LP Quinn Elementary School hosted their annual Helping Hands for Hospice fundraiser. Each grade selects a way of fundraising, from selling popcorn, ice pops, collecting pennies or the like they engage in a friendly competition to see which class can raise the most while learning about hospice care. This year the Kindergarten classes raised $2,387.00 and the school as a whole raised over $10,000.
On May 19th, High Peaks Hospice visited the LP Quinn Elementary to discuss with the students what they have learned and to thank these young community and staff members who make a difference to those in their community.
"Our school has partnered with High Peaks Hospice for many years. Fundraising as part of Helping Hands is one of our favorite ways to support the community. We are thankful for our partnership and look forward to continuing our tradition of giving!" Stated Principal Littlefield.
On Saturday, June 17 the 10th Annual Gary LaQuay Fishing Challenge accumulated 88 entries despite the weather, and raised $1945 for High Peaks Hospice. Ryan Skiff landed a 4lb 13oz bass to take first place in the Bass Division and Ricky J. Dewyea reeled in a whopping 11lb 6oz pike to take first place in the Northern Pike Division.
Tupper Lake resident and facilitator of the event for 10 years, Cory LaQuay, states "Hospice was there for my father during a time in our family's lives when we needed them the most, and I can never forget that. Arguably my fondest memories that I've had with my father were those spent on the water in the rain, getting snagged lures, and accidentally hooking even him… just once. What is important to me and the drive behind why we do this each year is to get friends, family and loved ones together, even for just one day, and continue to make those kinds of memories! I never imagined that it would gain the type of popularity and support that it has over the years, and for that we are truly thankful. We are very proud to make High Peaks Hospice the beneficiary of our efforts, and hope that our small contribution can help to become part of a larger goal."
Cory thanks his wife Breanna along with Ethan and Tara LaQuay, and their sponsors at the Tupper Lake Sportsmen's Club, ROOST ADK, Home Energy in Saranac Lake, and Neil Pickering of Mountain Market & Redemption in Tupper Lake for their continued support.
Nicholas George, Executive Director of High Peaks Hospice shares, "We are so grateful for the work of the students, the LaQuay family, and all those who contribute to High Peaks Hospice. We are honored to be part of so many lives. These groups show how valuable hospice is to our communities and the positive impact we've had for the families we've served."
-###-
About High Peaks Hospice
High Peaks Hospice provides end of life care that listens with respect, cares with compassion, supports with choice, and comforts with understanding – wherever you call home.
Media Contact: Sara DeSimone, Administrative Manager, sdesimone@highpeakshospice.org, 518-891-0606