In honor of National Volunteer Appreciation Week, we'd like to share our gratitude for everything our volunteers do to support us our mission and the families we serve.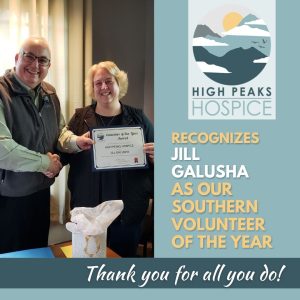 Our volunteers, some of whom are pictured above, are an exceptional group of caring and compassionate people who each bring a rich variety of life skills and interest to our hospice service. This holds true regardless of how much time they donate or whether they support our patients, caregivers, or outreach team… Each one has a special place in our organization.
It was our pleasure hosting our volunteer appreciation gatherings at our Glens Falls Office and the Keene Valley Library earlier this month. Thank you to all the staff and volunteers who were present.
Each year we choose two of our Volunteers to Honor with the title of Volunteer of the Year. This year that honor goes to Jill Galusha and Heidi Holderied.
Some words of praise for Jill Galusha:
Your time volunteering provided a daughter with much needed respite while she was the sole caregiver for her mother. You showed compassion and understanding with a dementia patient. You rolled up your sleeves to work in a patient's garden and cooked numerous meals for them bringing peace and a full belly. You have also spent the past year providing companionship to a woman that is grieving the loss of her daughter. Most recently you have become a member of our Rainbows grief program.

You have touched countless lives and we are a better agency with having you as a part of our team.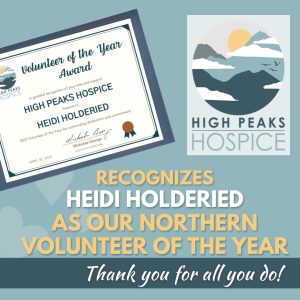 A special message for Heidi Holderied:
As the pandemic continues, it has not made volunteering easy as many families are wary of having anyone extra enter their homes. Despite all the struggles that we have encountered since early 2020, you have been willing to help as much as possible with so many of our families. Sometimes it may not have been through visits, but instead just via phone, and by letting them know that you were there in case they were to want a visit. This means so much to not just our patients and their families, but also to all of us at HPH. To show just how much appreciative we are – you have been chosen as the High Peaks Hospice Northern Region "Volunteer of the Year" for 2021.

Thank you for all the care, compassion, and support that you provide to each patient or family member that you have either spoken to via phone or visited. High Peaks Hospice is very lucky to have you as a part of our team!
To all of our volunteers
Thank you so much for the meaningful work that you do and the joy, comfort and peace you bring to the families we serve. With your support, we are a stronger organization for our communities!
If you wish to learn more about our Volunteer Opportunities:
Please reach out to Maureen Losch, Volunteer Coordinator, at 518-891-0606 or visit our volunteer page here.