Part 1 of Living with Dying – a weekend of community healing events in Saranac Lake, NY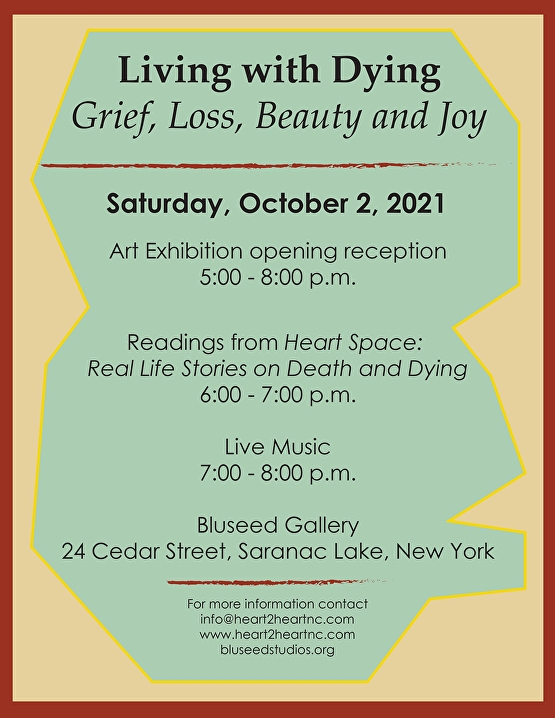 Living with Dying Art Exhibition @ BluSeed Studies 24 Cedar Street, Saranac Lake, NY
Saturday, October 2, 5:00-8:00pm
Opening reception takes place for the art exhibition with readings and live music from 5:00 – 8:00 pm at BluSeed Studios.
Introductory remarks by Cathy Brooksie Edwards, and a brief gallery talk by Diane Fine, curator of the art exhibition Living with Dying, will begin at 6:00 PM. Four contributors to the Heartspace anthology, including Diane Fine, Amiel Landor, Amy Parker and Jennifer Scanlon, will read excerpts from their chapters in the book Heartspace: Real Life Stories on Death and Dying.
Refreshments will be served and live music will be offered by Jeffrey Wanzer Dupra.
This event is brought to you by heart2heart,  a nonprofit that is committed to helping individuals, families, and communities navigate the living path from diagnosis to death and beyond and BluSeed Studios, a nonprofit artist workspace dedicated to the creation, promotion and presentation of the arts in the North Country.
To view the full weekend's events all in one place, click here.